Choosing a Font for Your Business Cards: Why Is it So Important?
Choosing a font for your business card can very quickly become a complicated undertaking. This is true whether you run a business in the travel industry (like Bluegreen Resorts) or in the entertainment industry (like Laika Studios). There are literally millions of fonts out there to choose from. How are you supposed to narrow it down to just one?
Here are some criteria that will help you decide.
Serif or No?
Serif fonts are fonts that have a heavy lower edge or element to each letter. These "heavy edges" form a line across the bottom of the text that helps direct your eye. Times New Roman is a great example of this. They are considered by many experts to be easier for the eye to read. This is why most books, newspapers, and magazines use serif fonts for the bodies of their articles. These fonts are often seen as more "serious" than those that lack the serifs.
Sans serif fonts are the fonts that lack these lines and extra elements for directing the eye. Arial, Helvetica, the dreaded Comic Sans – these are all sans serif fonts. Sans serif fonts often add a subtle creative flair to your business card.
Type or Handwritten?
Do you want the font on your business card to look like it was scrawled with a human hand or like it was typed up by a computer or professional letterer? Handwritten fonts are commonly thought of as having more personality than the "typed" fonts, but that doesn't mean that a "typed" font can't be beautiful, elegant, or creative.
If you're determined to have a handwritten font, you need to be careful. Handwritten fonts are often very hard to read and can sometimes detract from the overall feel of the card. A good compromise that many professionals have found is to have the name of your business in a handwritten font with the important information (address, phone, email, URL) in a typed font. Some choose to do the name and information in a typed font but put the company slogan in a handwritten font.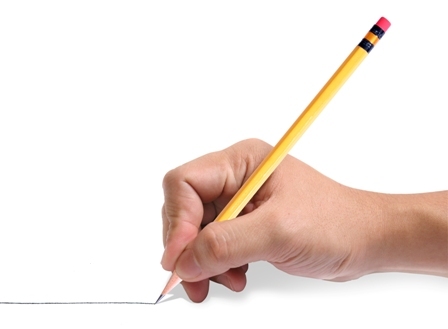 Yes, you can read it, but can everybody else?
Readability
Above all else, it is important that people are able to read your card. Using crazy fonts in crazy colors might seem fun from a creative or design perspective, but if nobody can read your information, is the card really anything more than just a very pretty piece of card stock?
There are lots of ways to be creative and create unique and beautiful (and "cool") business cards. When in comes to your font, though, going for the simple but elegant font in a bold or stark color (to help it stand out from the background of the card) is your best bet.
Trust us, even when you go this route, your font choice will still say volumes about your company's personality.
Erin Steiner is a freelance writer who has written about travel, pop culture and small business topics all over the web. She has spent many hours combing through fonts for her own projects.